Art & Fear - by David Bayles & Ted Orland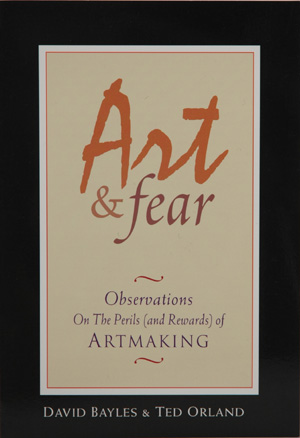 Art & Fear
Copyright 1993
122 pages
$12.95

Here's one of the books to feed the soul. To quote the introduction:
"This book is about making art. Ordinary art. Ordinary art means something like: all art not made by Mozart. After all, art is rarely made by Mozart-like people -- essentially (statistically speaking) there aren't any people like that. But while geniuses may get made once-a-century or so, good art gets made all the time. Making art is a common and intimately human activity, filled with all the perils (and rewards) that accompany any worthwile effort. The difficulties artmakers face are not remote and heroic, but universal and familiar.
This, then, is a book for the rest of us. Both authors are working artists, grappling daily with the problems with making art in the real world. The observations we make here are drawn from personal experience, and relate more closely to the needs of artists than to the interests of viewers. This book is about what it feels like to sit in your studio or classroom, at your wheel or keyboard, easel or camera, trying to do the work you need to do. It is about committing your future to your own hands, placing Free Will above predestination, choice above chance. It is about finding your own work."
Art & Fear

| Description | Price |
| --- | --- |
| Art & Fear | $12.95 |