Passing the Flame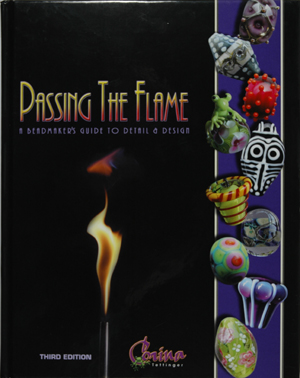 Passing the Flame
A Beadmaker's Guide to Detail & Design

by Corina Tettinger

Third Edition
Copyright 2002
ISBN 0-9726602-0-8
Hard Cover
224 pages
$75.00

Corina's knowledge and mastery of the magical properties of hot glass are astonishing. Using this comprehensive volumn, which features hundreds of colorful photographs and detailed step-by-step instructions, you will feel as if you have an expert and caring private tutor beside you, guiding your hands and eyes through the design and creation of beautiful glass beads.
With the help of Bonzo and Dr. Scooter, her canine teaching assistants, you will learn, laugh, and master many of the "secrets" that have made Corina one of the most popular contemporary beadmakers. Aspiring beginners, experienced lampworkers, and lovers of glass art alike are sure to be inspired by the depth of information, the vibrant demonstrations, and the design possibilities presented here in Corina's unique voice.
You can also watch Carina perform her magic with stringers in her DVD, The Adventures of Corina Jones and the Secret of Stringer Control.
Passing the Flame

| Description | Price |
| --- | --- |
| Passing the Flame | $75.00 |