Books by Keith Cummings
Professor Keith Cummings is an internationally well-known glass artist. His work appears in private and public collections around the world. He was formerly the head of the Glass Department at Wolverhampton University. He retired from that position in 1994 but he remains at the University as a reader in Research Studies.
---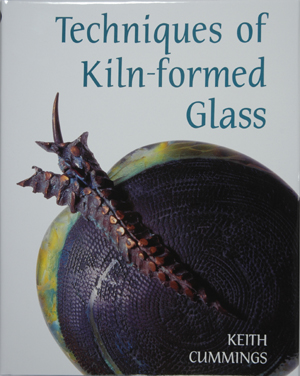 Techniques of Kiln-formed Glass
Second Edition
Copyright 2001
ISBN 0-8122-3402-2
Hard Cover
176 pages
$65.00

Kiln-forming as a technique to shape glass was in use for centuries before the Romans developed the blowpipe, and yet it has been greatly overshadowed by glassblowing. Today, modern glass artists are rediscovering the versatility of kiln-forming and using its techniques to produce works of great beauty and strength. In this book, Keith Cummings reviews the history of kiln-forming and discusses materials and methods such as slumping and fusing. He uses the work of an international group of artists to illustrate the text.
In this new version of Keith Cummings' classic book, over 50 of the old black and white illustrations have been replaced with new color images. The result is a masterly text illuminated with a glorious feast of color images. This book should be a must for everyone interested in glass - whether they work in the medium or just admire its beauty.
Techniques of Kiln-formed Glass

| Description | Price |
| --- | --- |
| Techniques of Kiln-formed Glass | $65.00 |
---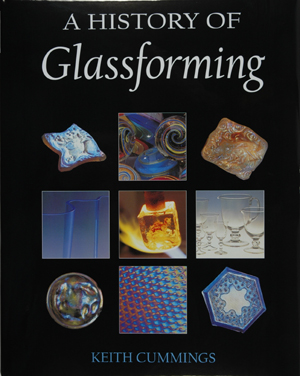 History of Glassforming
First Edition
Copyright 2002
ISBN 0-8122-3647-5
Hard Cover
186 pages
$65.00

The special quality of glass - neither solid, liquid, nor gas - have required glassmakers to develop special skills for transforming raw materials into finished objects. In A History of Glassforming, Keith Cummings approaches the history of glass through the practices and techniques of those who make it. This is a fascinating study of the nature of glass and the skills, techniques, and machines that have been developed to exploit its remarkable and mutable properties. As Cummings demonstrates, glass has evolved from a rare and precious commodity, to a familiar tool of everyday use, to an art form prized once again.
History of Glassforming

| Description | Price |
| --- | --- |
| History of Glassforming | $65.00 |