Diamond Hand Files, by 3M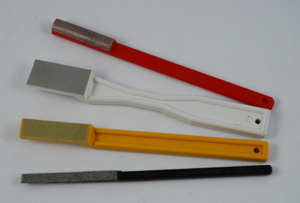 These hand files are 6-1/4" overall length, have a rigid plastic handle, and come in 4 different head size/shape combinations:
F1 - 1-1/2 x 3/4", flat
F2 - 1-3/4 x 1/2", flat
F3 - 1-3/4 x 1/2", half round
F4 - 2-1/2 x 1/4", flat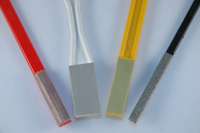 The diamond grit is available in 4 mesh sizes, although not all mesh sizes are available in every head size/shape combination.
All of the diamonds are bonded to the handle using a nickle-metal bond for extra strength. The handles are color coded for easy mesh-size identification.
Diamond Hand Files, by 3M

| Part Number | Description | Price |
| --- | --- | --- |
| | | |
| F1-Black-125M | 1-1/2 x 3/4", flat, 120 mesh | $9.25 |
| F1-Red-74M | 1-1/2 x 3/4", flat, 220 mesh | $8.75 |
| F1-Yellow-40M | 1-1/2 x 3/4", flat, 400 mesh | $7.75 |
| F1-White-20M | 1-1/2 x 3/4", flat, 800 mesh | $7.75 |
| | | |
| F2-Black-125M | 1-3/4 x 1/2", flat, 120 mesh | $8.75 |
| F2-Red-74M | 1-3/4 x 1/2", flat, 220 mesh | $8.50 |
| F2-Yellow-40M | 1-3/4 x 1/2", flat, 400 mesh | $7.50 |
| F2-White-20M | 1-3/4 x 1/2", flat, 800 mesh | $7.50 |
| | | |
| F3-Black-125M | 1-3/4 x 1/2", half round, 120 mesh | $8.75 |
| F3-Red-74M | 1-3/4 x 1/2", half round, 220 mesh | $8.50 |
| | | |
| F4-Black-125M | 2-1/2 x 1/4", flat, 120 mesh | $7.75 |
| F4-Red-74M | 2-1/2 x 1/4", flat, 220 mesh | $7.50 |