Face Shields
Proper face protection is very important in many aspect of working hot glass, including casting, slumping, fusing, lampworking, or furnace working.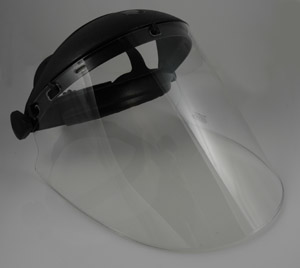 The face shield system we carry is a modular system. This allows you, the artist, to configure your face shield to fit your needs. This also allows you to upgrade and/or repair your shield without having to buy a whole new shield.
The foundation of the shield is the headgear. It features an adjustable headband that can fit all head sizes, a ratcheting mechanism with adjustable tension that holds the faceshield in place either up or down (or in between), and a 3" spark guard. This headgear is made of materials designed for high temperatures and severe service applications.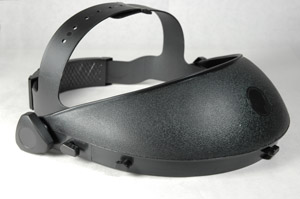 To the headgead, you attach the shield itself, or 'window'. These windows are made from injection molded and optically correct Lexan®. This results in a window with both high impact strength and high temperature resistance. Each window measures 9-1/2" tall x 20" wide x .060" thick.
The windows come in several shades to match your needs: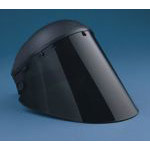 Clear (shown above, left)
Medium Green
Dark Green (shown above, right)
In situations where you are working near high heat (such as lampworking large borosilicate pieces, or putting large pieces of blown glass into a kiln), we offer windows with a metalized gold plating. This protective coating provides high temperature radient heat reflection.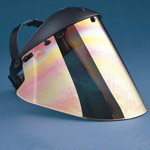 Metalized Gold on Clear (shown above)
Metalized Gold on Medium Green
And, there are times where you want physical protection that won't melt. For this, we carry a black wire screen 'window'. This screen measures 8" tall x 15-1/2" wide.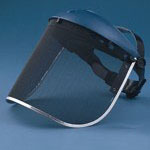 (Headgear and windows sold separately)
Face Shields

| Part # | Description | Price |
| --- | --- | --- |
| HG4-H | Headgear | $22.00 |
| | | |
| IM20-L6F | Window, Clear | $15.50 |
| IM20-L6FM | Window, Medium Green | $16.50 |
| IM20-L6FD | Window, Dark Green | $16.50 |
| | | |
| IM20-GHC6F | Window, Gold/Clear | $134.25 |
| IM20-GHC6FM | Window, Gold/Medium Green | $134.25 |
| | | |
| A-WS | Wire Screen, Black | $15.00 |