Ground Glass Joint Holders
When working with the Glass-on-Glass ground joints, it helps to have a safe and secure way of holding them when working close to the flame. These precision tools allow you to work close to the tapered joint itself without burning your fingers.
Made by Blast Shield, these are assembled on a lathe and are guaranteed to run true. The hollow shafts are designed to accept a 1/4" blow hose, and the 6" long cherry wood handles keep your hands cool. About 12" long.
There are two styles, and two sizes within each style.
These will hold a Female ground joint. Please specify 14mm (left) or 19mm (right).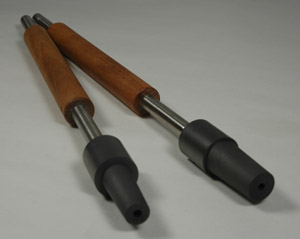 These will hold a Male ground joint. Again, please specify 14mm (not shown) or 19mm (shown below).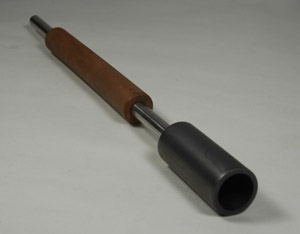 Ground Glass Joint Holders

| Description | Price |
| --- | --- |
| For Male joints, 14mms | $50.00 |
| For Male Joints, 19mm | $50.00 |
| | |
| For Female Joints, 14mm | $50.00 |
| For Female Joints, 19mm | $50.00 |