"Glass Notes" by Henry Halem
Henry Halem has been involved in making and teaching glass since 1968. He also helped found the Glass Art Society and served as their first president. He was made a Fellow of The American Crafts Council in 1994 and received the Presidents Medal from Kent State University in 1998 for his contributions to the arts.
Henry built and maintained a major glass facility at Kent State University for 29 years. His experience makes him eminently qualified to write "Glass Notes" and pass on some of the "tricks of the trade".
The new 4th edition (copyright 2006) is completely updated, fully illustrated, and includes many new additions!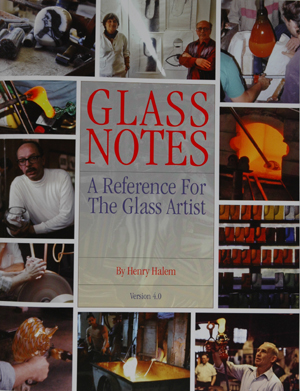 Glass Notes, 4th Ed.

Fourth Edition
Copyright 2006
ISBN 1-885663-09-4
ISBN 978-1-885663-06-1
Paperback
352 pages
(out of print)

Introduction to Batching
Annealing
Casting
Refractories
Glory Holes
Burners
Annealers
General Information
Suppliers
Conversions
Letters to Dr. Glass
Index
Glass Notes, 4th Edition

| Description | Price |
| --- | --- |
| Glass Notes, 4th Edition | (out of print) |
---
We still have some copies of the 3rd Edition. While supplies last.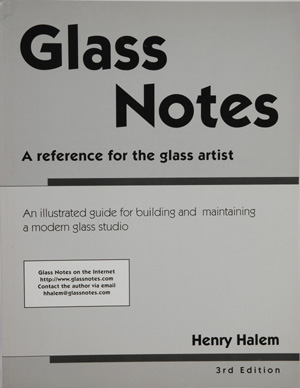 Glass Notes, 3rd Ed.

Third Edition
Copyright 1996
ISBN 1-885663-02-1
Paperback
292 pages
$30.00

Building a day tank
Building invested and free standing pot furnaces
Estimating furnace Btu's
Building annealers
Digital controllers
How to build a Glory Hole, fiber or brick
Heat flow charts that calculate cold face temperatures
How to maintain your crucible
What type of adhesive to use and where to buy it
Descriptions and diagrams on kiln casting and sand casting
Czech casting techniques
Klaus Moje kiln casting technique revealed
Colorants for cullet and batch
Batching your own glass
And much more
Glass Notes, 3rd Edition

| Description | Price |
| --- | --- |
| Glass Notes, 3rd Edition | $30.00 |