Hot Off The Press!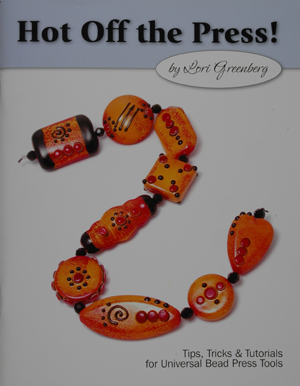 Hot Off The Press!
Tips, Tricks & Tutorials for Universal Bead Press Tools
by Lori Greenberg

Copyright 2006
ISBN 0-9770831-2-8
Paperback
53 pages
$19.50

Welcome to the wonderful world of glass pressing tools. This book is designed to help the beginner by explaining the basics of how the press tools work, demonstrating the process step by step and showing an efficient working setup. It is also intended for the more advanced user with tips and tricks for using the tools and fixes for common pressing issues.
As you may find in your art, there is never just one way of doing something. The tutorials and suggestions in this book are intended as guidelines to use as you see fit. If you are more comfortable getting to a particular step in your own way, by all means, do it! Likewise, you are encouraged to use this book, and pressing tools in general, as a jumping off point for your own creativity. There is no rule that says the creativity has to stop after the pressing is done. Use the pressed surface as a canvas, and let your creativity soar beyond it!
Hot Off The Press!

| Description | Price |
| --- | --- |
| Hot Off The Press! | $19.50 |