Books by Cindy Jenkins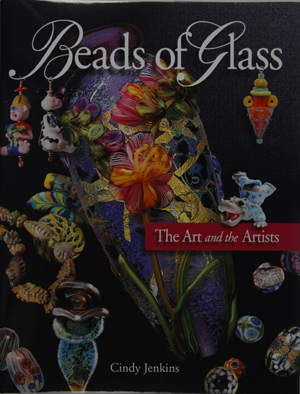 Beads of Glass
First Edition
Copyright 2006
Hard Cover
152 pages
$29.95

Get ready to enjoy a wonderous journey into the facinating world of glass beads. The tour begins with a vibrant gallery of beads and beaded objects from all over the world. Next is an intriguing behind-the-scenes peek at the artists, their work, and their philosophies. The extensive how-to section's step-by-step action photography allows you to see at a glance exactly how beads are made. Imagine the fun you'll have as you turn page after gorgeous page.
Whether you're a collector, a crafter, or just plain curious, this book satisfies your need to know. If beads are your passion, this is your passport to paradise.
Beads of Glass

| Description | Price |
| --- | --- |
| Beads of Glass | $29.95 |
---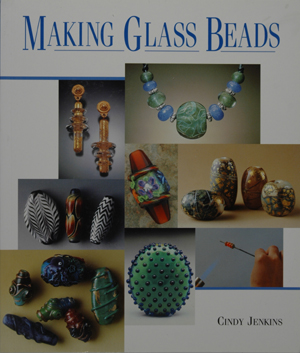 Making Glass Beads
First Paperback Edition 2004
Copyright 1997
ISBN 1-887374-16-7
Paperback
112 pages
Out of Print

In this book you'll discover the art of glass beadmaking and learn many of the secrets that were guarded for centuries by Venitian glassmakers. You'll gradually build your expertise, beginning with the basic methods for making and decorating beads and working up to more advanced approaches. Dozens of techniques are described in step-by-step detail, and the text is liberally seasoned with "Hot Tips," each designed to make learning easier and more fun. This book is lavishly illustrated with how-to photography and photos of works by more than 50 contemporary beadmakers, all in full color, making it a practical handbook and inspirational artists' gallery all in one volume.
Making Glass Beads

| Description | Price |
| --- | --- |
| Making Glass Beads | Out of Print |
---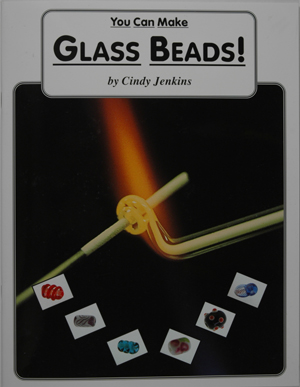 You Can Make Glass Beads
Second Printing
Copyright 1993
Paperback
32 pages
$11.95

Glass beads have a magical charm that has facinated people of all cultures throughout history. They date back thousands of years to ancient Egypy, and were among the first glass objects found. They have been experiencing a rebirth in the past few years, and many artists of all media are learning to incorporate them into their artwork.
With just a few hours of practice, you can be making uniquely beautiful glass beads of your own design.
This books starts out with an overview of the tools required, and then walks you through simple step-by-step instructions for making a basic glass bead. It then offers ideas for more advanced techniques that you may want to try to incorporate into your beadwork. These instructions can be a take-off point for your own artistic expressions.
This books includes:
The basics of beadmaking
Safety guidelines
Illustrated instructions
Pages and pages of special effects
Troubleshooting guide
You Can Make Glass Beads

| Description | Price |
| --- | --- |
| You Can Make Glass Beads | $11.95 |