Just Plain Beads!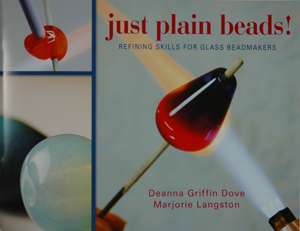 Just Plain Beads!
by Deanna Griffin Dove and Marjorie Langston

First Edition
Copyright 2007
ISBN 978-0-9789721-0-3
Paperback
63 pages
$20.00

Discover your love for the simple, beautiful bead! Create the exact bead shape that exists in your mind's eye. The information in this book provides a solid foundation for success, yielding proven results.
Vibrant pictures, simple instructions, and complete explainations build a sturdy framework for understanding exactly how heat and motion affect a bead shape. Just Plain Beads! is a treasure-trove of techniques, tactics and tips. You will find instructions and guidance for a variety of shapes and problems in this easy-to-follow book.
Just Plain Beads!

| Description | Price |
| --- | --- |
| Just Plain Beads! | $20.00 |