Malcolm Spann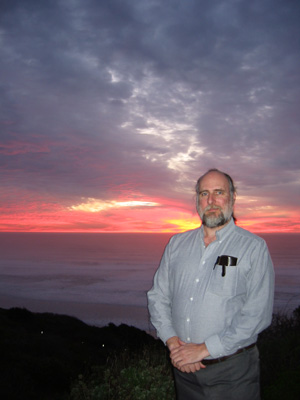 I am a self described tool junkie! I've been working with my hands and making things for as long as I can remember. I work in wood, metal, glass, plastic - all sorts of materials. My dream has been to have my own fully equiped workshop, or studio, into which I could walk, and build anything I could conceive in my mind. This was the seed, from which ARTCO grew.
I am an Aries - my element is fire. I started making welded wire sculpture in highschool. In college, one of my majors (I changed it several times) was in art, with an emphasis on sculpture - bronze casting. When I discovered that the school offered glassblowing, I gave it a try, and fell in love with the material. So, I came into hot glass from hot metal.
As it is in many school environments, the tools in the hot shop where often bent, broken, or just worn out. Since I was working my way through college working in machine shops, I had the resources available to make the type of tools I wanted. I started by making my own blowpipes. Others at the school liked my pipes, so I started to make more. This was a catalyst in the formation of ARTCO.
This summer, it will be 25 years since we officially became a business. During this time, I've learned that having the right tools can make things easier. Sometimes, some processes or techniques require the right tools. As an artist myself, I appreciate having the right tool for the job. I can focus on my art when I don't have to think about my tools.
A guiding principle here at ARTCO is, "Would I use this product?" If not, we don't carry it. We look for the best quality, and the best value, in all the products we sell.
Since I am expanding my work to include more glass casting, we are expanding ARTCO's product line to include more casting and sculpture products. Each item we carry is something we use ourselves.
We would like to thank all the students, artists, schools, studios, and businesses who have supported us all these years. We want to earn your trust, and your business. Please, let us know what we can do for you. Thank you.