Optx 20/20 Stick On Magnification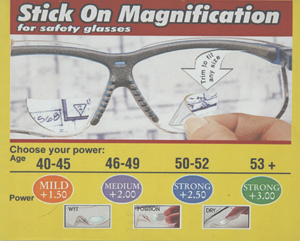 Are you tired of trying to wear your Didymium glasses over your reading glasses? Can't afford to have a pair of Didymium glasses ground to your perscription?
Try the Optx 20/20 Stick On Magnifiers. These are soft, lightweight lenses that adhere to the inside of your Didymium glasses with water, yet are removable *and* reusable. When your glasses become scratched or damaged, simply remove the Stick On Magnifiers, and move them to your new glasses.
Visiting someone's studio? Carry a set of the Stick On Magnifiers in your purse, and you can turn any borrowed Didymiums into the magnifiers you need.
How to use:
Wash hands, glasses, and OPTX 20/20 Magnifiers with liquid soap and warm water to remove any dust and oils. Rinse thoroughly with clean, warm water.
With clear, warm water in the inside of your glasses, press the lens onto the bottom 25% of each glass lens. Align lens with the bottom of your eyelashes and center with the center of your pupil.
To check for proper placement, put on your glasses and look through your OPTX 20/20 Magnifiers. Placement adjustments are easily made by sliding your lenses while they are still wet.
When properly positioned, press the excess water gently to the sides. Pat dry with a lint-free towel. Allow the lenses to dry completely before using. OPTX 20/20 Magnifiers are removable and can be reinstalled by repeating these instructions.
Size: 1.2" diameter
One pair per package
Comes in a convenient storage/carrying case
Available in 4 magnification strengths:
Optx 20/20 Stick On Magnifiers

| Power | Magnification | Price |
| --- | --- | --- |
| +1.50 | Mild | $20.00/pr |
| +2.00 | Medium | $20.00/pr |
| +2.50 | Strong | $20.00/pr |
| +3.00 | Extra Strong | $20.00/pr |