the Leonardo Petal Pullers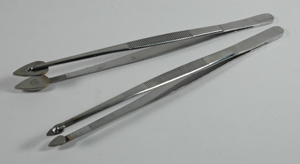 Lampwork artist Karen Leonardo invented these tools to make her own glass flowers and leaves. She has now made them available to the public.
The petal puller easily pulls perfect petals and leaves quickly from your hot glass rods to be used in making sculpted flowers and leaves. Available in 2 sizes. The large puller allows you to pull petals approximately 4mm by 16mm by 26mm. The small puller allows you to pull petals approximately 4mm by 12mm by 19mm. Both are 8" long (not including the tips).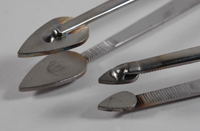 You can make all types of petals or leaves with this tool. All you do is heat the end of the rod, pinch and pull the petal and add it to a coffee warmer or hot plate to build into a flower. You can make pansies, daisies, roses among many other flowers. The petal puller makes it much easier and quicker. In addition to making flowers, you can also add the petal onto a small bead and shape into a leaf. The possibilties are endless, just use your creativity and imagination!
You can also watch Karen use the Petal Pullers in her companion DVD, The Leonardo Petal Pullers - DVD.
the Leonardo Petal Pullers

| Description | Price |
| --- | --- |
| Petal Pullers, small | $24.99 |
| Petal Pullers, large | $24.99 |