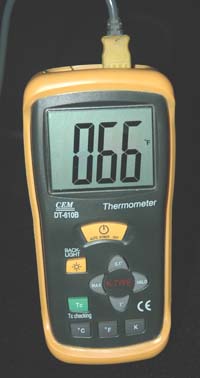 This hand-held pyrometer is great for checking kilns, ovens, or even your studio temperature. It is perfect as a backup, or double-check, for your kiln controller.
Temperature Scale: Fahrenheit, Celsius, Kelvin
Range: -58°F to 2000°F / -50°C to 1300°C / 223°K to 1573°K
Accuracy: Accuracy is specified for the operation temperatures over the range of 64°F to 82°F (18°C to 28°C) not including thermocouple error.

+/- 2°C from -50°C to 0°C
+/- 4°F from -58°F to 32°F
+/- 5°K from 223°K to 273°K
+/- (0.5% reading +1°C) from 0°C to 1000°C
+/- (0.8% reading +1°C) from 1000°C to 1300°C
+/- (0.5% reading +2°F) from 32°F to 2000°F
+/- (1.0% reading +2°K) from 273°K to 1573°K

Input Connector: Accepts standard miniture thermocouple connector with flat blades spaces 7.9mm center to center.
Display: 3.5 digit LCD with maximum reading of 1999
Power: One 9V battery (included)
Dimensions: 6.68" x 3.38" c 1.79" (170mm x 86mm x 45mm)
Weight: 11.5 oz. (328 grams)
Pyrometer

| Part Number | Description | Price |
| --- | --- | --- |
| DT-610B | Single Input K type Pyrometer | $36.00 |
Each pyrometer comes complete with a 36" teflon insulated type K thermocouple, rated up to 500°F. To use this pyrometer to measure temperatures over 500°F., you'll need a better thermocouple. Below is a high quality thermocouple made by Paragon, manufacturers of kilns for glass, ceramics, and PMC. It is 70" in overall length, with a 4" ceramic protective shield for the probe itself.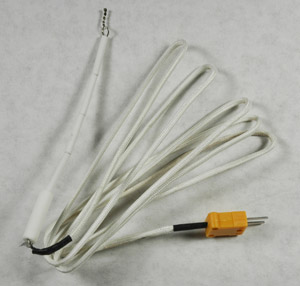 Thermocouple

| Part Number | Description | Price |
| --- | --- | --- |
| PY-71 | Type K thermocouple | $34.00 |