Lampworking DVDs
by Bill and Laura Rasmussen
Bill Rasmussen has been a glass sculptor for about 60 years. Bill's family learned their craft from an old German glassblower back in the mid-1930's in Southern California. His father had a shop on Santa Catalina Island in the 1940's. In 1955, Bill became the official Disneyland glassblower, with a beautiful shop right on Main Street.
Laura Rasmussen was a secretary at Disneyland when she discovered a really cute guy that made neat glass things right there on Main Street. It didn't take long for her to get his attention.
Early on, Bill tried to coax her into working glass, but she held off. About ten years ago, Bill started playing around with beads. Laura gave it a try, and even though she admitted that it was fun, she still resisted the urge. A few years later, she gave bead making another go, and finally gave in! She is now a full time bead maker, and Bill and Laura work side by side in their studio.
Many of today's premier glass artists admit that they spent hours watching Bill work. At a recent gathering of his peers, he was called a "National Treasure". To Laura, he's just Bill!
---
It should be noted that both Bill and Laura are left handed. Pay attention to how they both hold their work and tools.
Malcolm
---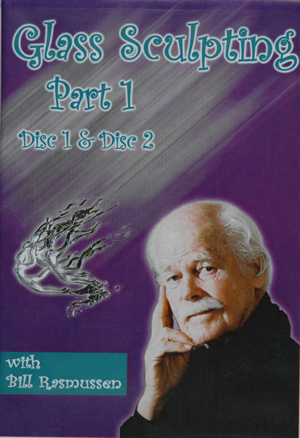 Glass Sculpting, Part 1
Copyright 2006
2 disk DVD set
2 hrs, 29 minutes total
$37.50
Disk 1
Getting Started
Joining the Glass

Straight Join
Perpendicular Join

Separating

Basic Separation
Pulling a Point
Basic Ball Separation
Separating the Ball
How to Apply Separations
Common Mistakes

Sculpting Techniques

Push / Pull
Knifing
Fish Tail
Pull to Ball
Pull to Ball with Bead
Double Forward
Double Back
Drawing Proportions
Making a Simple Rabbit
Disk 2
Mushroom
Snail
Turtle
Dog
Pig
Flower
Dolphin
Seagull
Glass Sculpting, Part 1

| Description | Price |
| --- | --- |
| Glass Sculpting, Part 1 | $37.50 |
---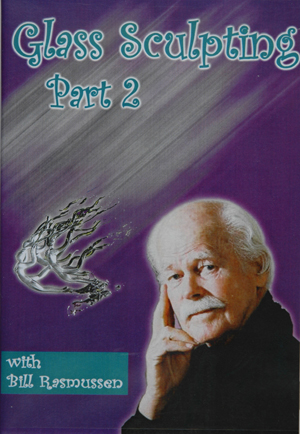 Glass Sculpting, Part 2
Copyright 2006
1 DVD disk
1 hrs, 43 minutes
$37.50
Tools You Use in Your Every Day Work

Tongs
Flat-Iron
Tool Rack and Custom Tools
Extension Tube
Drawings and Files
Holding Rod
Customized Pliers
Stamps, Tubes & Molds
Dividers
Hand Held Torch
Tool Rest
Scrap Bin
The Work Bench
Garbanstangle

Creating Glass Objects

The Cherub

Legs
Body
Arms
Head & Face
Wings
Glass Sculpting, Part 2

| Description | Price |
| --- | --- |
| Glass Sculpting, Part 2 | $37.50 |
---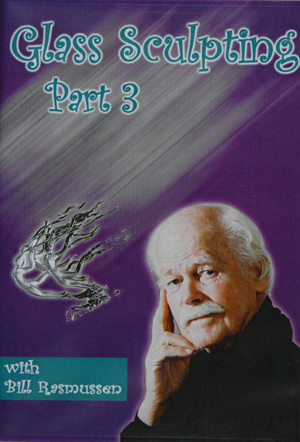 Glass Sculpting, Part 3
Copyright 2006
1 DVD disk
1 hrs, 43 minutes
$37.50
A Ballerina
Male Dancer
A Child
Kneeling Figure
A Cherub
Glass Sculpting, Part 3

| Description | Price |
| --- | --- |
| Glass Sculpting, Part 3 | $37.50 |
---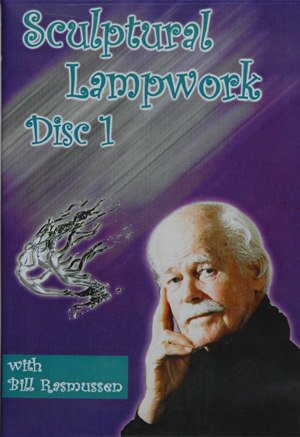 Sculptural Lampwork
Copyright 2006
1 DVD disk
1 hr, 15 minutes
$37.50
Bumble Bee
Humming Bird
Hollow Heart
Hollow Vessel
Slug
Torch
Mushroom
Flower
Fish
Frog
Sculptural Lampwork

| Description | Price |
| --- | --- |
| Sculptural Lampwork | $37.50 |
---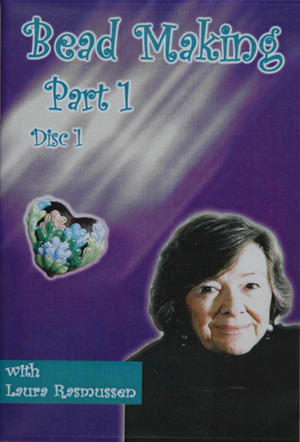 Bead Making
Copyright 2006
1 DVD disk
2 hrs
$37.50
Workbench
Basic Beads

Basic Bead
Bead with Dots
Two Colored Bead
Square Bead

Stringers
Flower Beads
Twisties
Dichroic Beads
Sculpted Beads
Bead Making

| Description | Price |
| --- | --- |
| Bead Making | $37.50 |
---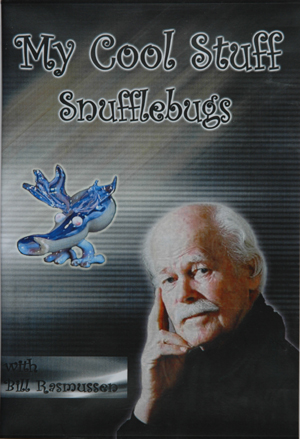 My Cool Stuff
Copyright 2006
1 DVD disk
1 hr, 22 minutes
$37.50
Basic Snufflebug
Snufflebug with Wings
Snufflebug Accessories
My Cool Stuff

| Description | Price |
| --- | --- |
| My Cool Stuff | $37.50 |