Torchworked Marbles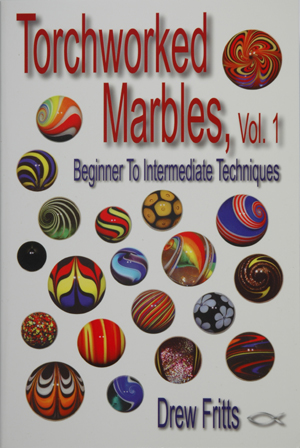 Torchworked Marbles, Vol. 1
by Drew Fritts

First Edition
Copyright 2004
ISBN 0-9725266-3-3
Paperback
456 pages
** Out of Print **

From equipment and setup information to intermediate torchworking skills, this book will give you the information you need to actually start making art glass marbles. Whether you use soft glass or hard, make beads, sculpture, or already make marbles, there's something in this book for you. Collectors will also enjoy seeing the process of one of today's top marble artists. Drew has also had a number of articles published in Glass Line Magazine.
Many authors will simply tell you to do something. Drew tells you 'why' to do things, and thoroughly explains the technical aspects behind each process. He also offers 'his way' of doing things, and justifies his processes with both the theory and his experience. He includes sections written by (and gives credit to) others knowledgable in their fields, including Jerry Sandberg and Henry Grimmett.
Going through color by color, Drew shares his experiences with working with many of the different available glasses; hard, soft, and even sheet glass. He explains the use of different tools, and gives instructions on making your own. Drew has also designed his own line of marble molds (which we carry), called the Infinite Rim Mold™.
After explaining the processes, materials, and methods, Drew wraps up the book with 20 lessons, each designed to reinforce the information explained earlier.
Torchworked Marbles, Vol. 1

| Description | Price |
| --- | --- |
| Torchworked Marbles | ** Out of Print ** |