Glass with Vicki Payne
Vicki Payne has taught more people to work with glass than any other person in the world. Each week, for over 17 years, thousands of glass enthusiasts have tuned in to watch her popular national television show, Glass with Vicki Payne. This informative and entertaining program takes the mystery out of working with art glass. Vicki's step-by-step demonstrations of the many processes involved in glass work are helpful to hobbyists at all levels of experience and engrossing to viewers who are simply curious about this fascinating medium.
---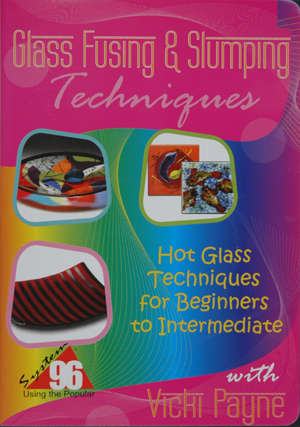 Glass Fusing & Slumping Techniques

Vicki takes you step-by-step through your your first two fusing projects with easy to understand, uncomplicated instructions. This is your opportunity to explore the basics of this fun hobby. You will learn how to work with the new fusing compatible glass products to create two beginner projects.

Your first project is a set of coasters. You will learn how to select your first kiln, how to set up your work area and how to master basic glass cutting techniques. You will have fun creating your first design, getting it ready to fire, loading the kiln and completing the firing and annealing process.

Your second project, a glass vase, will help you take your fusing knowledge to the next level by learning how to slump glass into various shapes. You will be introduced to a larger sized kiln and its operating procedures. Learn how to select and work with glass slumping molds, both clay and metal, and how to prepare them for firing. Advanced glass cutting techniques show you how to use a glass circle cutter to create perfect rounds every time. You will discover the fun of working with stringers, frits and other precut shapes.

Copyright 2005
Approx. 51 minutes.
$29.95

Glass Fusing & Slumping Techniques

| Description | Price |
| --- | --- |
| Glass Fusing & Slumping Techniques | $29.95 |
---
Renowned artist, instructor, and innovator Jayne Persico joins Vicki in the following videos, demonstration some more advanced kiln projects. Many of the techniques shown on these DVDs are explained in greater detain in Jayne's books, which we also carry.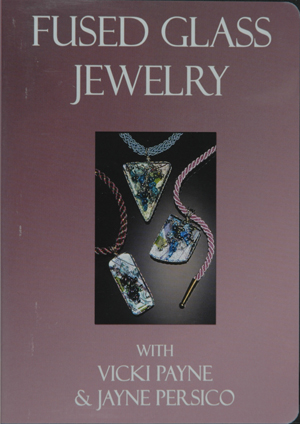 Fused Glass Jewelry

Fused Glass Jewelry is a colorful, fun, and easy to follow one-hour DVD featuring the talents of Vicki Payne and Jayne Persico. Working with Evenheat's popular jewlery kiln and compatible fusing glasses, including Coatings by Sandberg's beautiful dichroic glass, Vicki and Jayne take the confusion out of successfully fusing beautiful glass jewelry. In addition to covering the basics, this DVD is loaded with advanced jewelry techniques such as wire wrapping, etching, engraving and drilling holes in glass. Vicki and Jayne's friendly, playful style makes you feel like you are spending the afternoon with two friends that love working with glass and sharing their creativity.

Approx. 60 minutes.
$29.95

Fused Glass Jewelry

| Description | Price |
| --- | --- |
| Fused Glass Jewelry | $29.95 |
---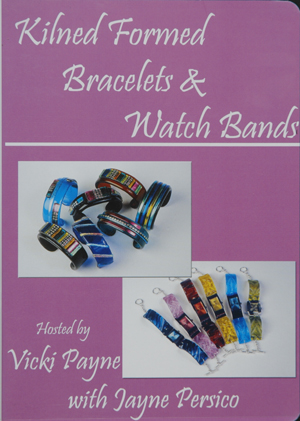 Kiln Formed Bracelets & Watch Bands

In this 90 minute DVD, Jayne Persico shows you how to make designer curved glass bracelets and watch bands using a glass kiln. Learn how to design, cut glass, kiln set up, fire glass, as well as sizing, bracelet forming, watch band designing and wire wrapping.

Approx. 90 minutes.
$29.95

Be sure to also check out Jayne's book, Kiln Formed Bracelets.
Kiln Formed Bracelets & Watch Bands

| Description | Price |
| --- | --- |
| Kiln Formed Bracelets & Watch Bands | $29.95 |
---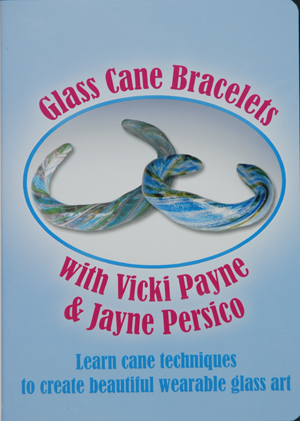 Glass Cane Bracelets

Learn how to make glass cane using a kiln. Building on the lessons in her DVD, Kiln Formed Bracelets & Watch Bands, this 30 minute instructional DVD covers layering, firing, pulling and manipulation of cane. Cane can be used to create bracelets or design elements for other fusing projects.

Approx. 30 minutes.
$29.95

Glass Cane Bracelets

| Description | Price |
| --- | --- |
| Glass Cane Bracelets | $29.95 |
---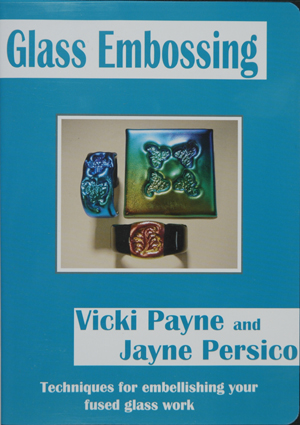 Glass Embossing

This DVD features Jayne Persico's latest innovation, The Glass Embossing System. You will learn how to emboss beautiful patterns directly into your fused glass work. This exciting trademarked system uses a series of components to press flowers, leaves, scrolls and other designs into glass. Embossing tools will create a world of possibilities for adding patterns to your fused glass work. You will also learn the keys to timing and temperature for handling the glass.

Approx. 30 minutes.
$29.95

Glass Embossing

| Description | Price |
| --- | --- |
| Glass Embossing | $29.95 |