TPT - Press Attachments
All of these press attachments fit on top of the TPT Mounting Bases.
Before use, please clean all graphite tools by gently washing them with mild soap and an SOS or Brillo pad to remove any graphite dust that may be left behind from the manufacturing process. Allow to dry completely before use.
---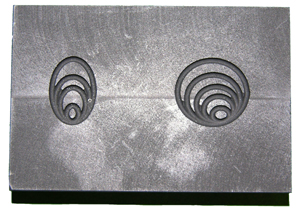 523000201
Spiral & Oval Press Combo Engraved
1/2" x 2" x 3"

Oval 1/2" wide x 3/4" tall
Circle 7/8" wide x 3/4" tall

$34.00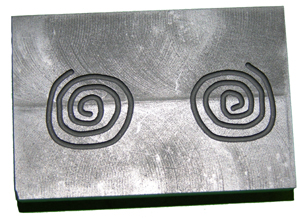 523000202
Spiral Duo Press Engraved
1/2" x 2" x 3"

Spirals approximately 15/16" Dia.

$34.00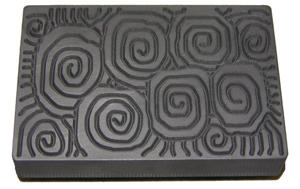 523000210
Spirals Entangled
1/2" x 2-1/8" x 3-1/8"

Spirals vary from 1/4" to 3/4" long, and 1/2" to 1-1/4" wide

$41.00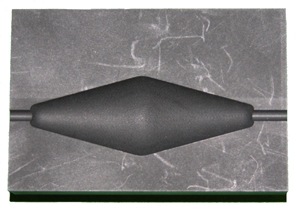 523000301
Focal Roller Attachment, 1/8" Mandrel
1/2" x 2" x 4"

2-3/8" wide x 7/8" tall rounded cavity, from 1/16" to 1/4" deep

$39.00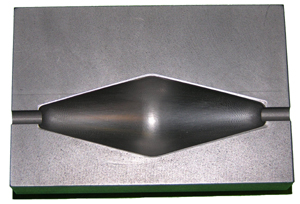 523000302
Focal Roller Attachment, 5/32" Mandrel
1/2" x 2" x 3"

2-3/8" wide x 7/8" tall rounded cavity, from 1/16" to 1/4" deep

$39.00

523000303
Focal Roller Attachment, 3/16" Mandrel
1/2" x 2" x 3"

2-3/8" wide x 7/8" tall rounded cavity, from 1/16" to 1/4" deep

$39.00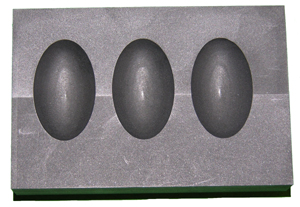 523000501
Tripple Marver Frit Tray
1/2" x 2" x 3"

3/4" wide x 1-1/8" tall cavities, 1/4" deep, spaced 3/16" apart

$36.00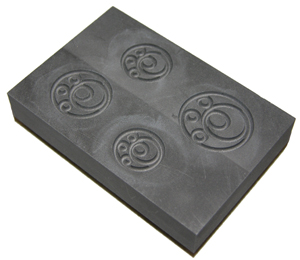 523001010
Circle Patterns 4-in-1 Attachment
1/2" x 2" x 3"

4 basic shapes approximately 1/16" deep ranging from 9/16", 5/8", 3/4", & 7/8" dia.

$34.00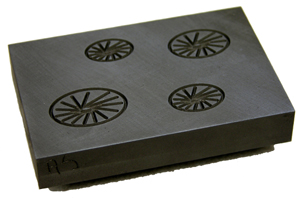 523001020
Spoke Wheel 4-in-1 Attachment
1/2" x 2" x 3"

4 basic shapes approximately 1/16" deep ranging from 9/16", 5/8", 3/4", & 7/8" dia.

$34.00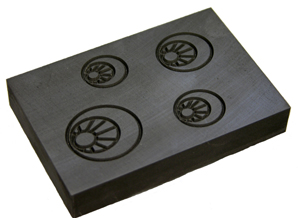 523001030
Abstract Circle Pattern A Press 4-in-1
1/2" x 2" x 3"

4 basic shapes approximately 1/16" deep ranging from 9/16", 5/8", 3/4", & 7/8" dia.

$34.00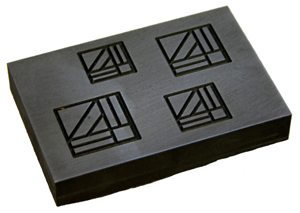 523001040
Square Pattern Press 4-in-1
1/2" x 2" x 3"

4 basic shapes approximately 1/16" deep ranging from 9/16", 5/8", 3/4", & 7/8" dia.

$34.00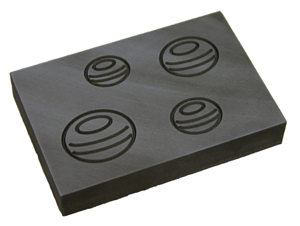 523001050
Simple Circle Pattern A Press 4-in-1
1/2" x 2" x 3"

4 basic shapes approximately 1/16" deep ranging from 9/16", 5/8", 3/4", & 7/8" dia.

$34.00

523001060
Sun Rise / Sun Set Pattern A Press 4-in-1
1/2" x 2" x 3"

4 basic shapes approximately 1/16" deep ranging from 9/16", 5/8", 3/4", & 7/8" dia.

$34.00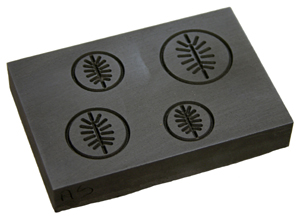 523001070
Abstract Leaf Press 4-in-1
1/2" x 2" x 3"

4 basic shapes approximately 1/16" deep ranging from 9/16", 5/8", 3/4", & 7/8" dia.

$34.00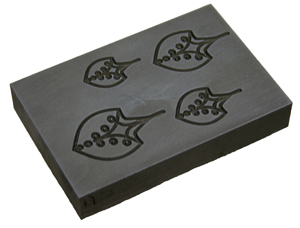 523001080
Abstract Fish Press Attachment 4-in-1
1/2" x 2" x 3"

4 basic shapes approximately 1/16" deep ranging from 9/16", 5/8", 3/4", & 7/8" dia.

$34.00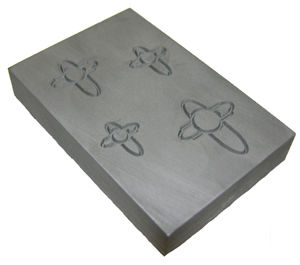 523001090
Cross Press Attachment 4-in-1
1/2" x 2" x 3"

4 basic shapes approximately 1/16" deep ranging from 9/16", 5/8", 3/4", & 7/8" dia.

$34.00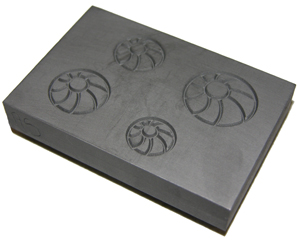 523001100
Beach Ball Press 4-in-1
1/2" x 2" x 3"

4 basic shapes approximately 1/16" deep ranging from 9/16", 5/8", 3/4", & 7/8" dia.

$34.00

523001110
Abstract Circle Pattern B Press 4-in-1
1/2" x 2" x 3"

4 basic shapes approximately 1/16" deep ranging from 9/16", 5/8", 3/4", & 7/8" dia.

$34.00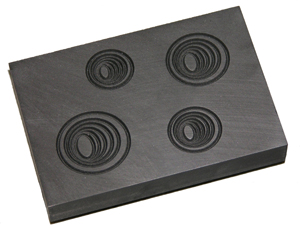 523001120
Round Slinky Pattern Press 4-in-1
1/2" x 2" x 3"

4 basic shapes approximately 1/16" deep ranging from 9/16", 5/8", 3/4", & 7/8" dia.

$34.00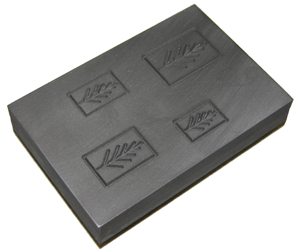 523001130
Abstract Circle Pattern B Press 4-in-1
1/2" x 2" x 3"

4 basic shapes approximately 1/16" deep ranging from 9/16", 5/8", 3/4", & 7/8" dia.

$34.00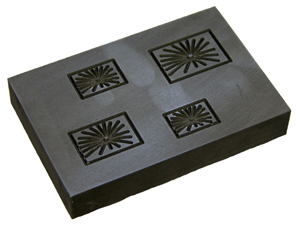 523001140
Organic Life Press Attachment 4-in-1
1/2" x 2" x 3"

4 basic shapes approximately 1/16" deep ranging from 9/16", 5/8", 3/4", & 7/8" dia.

$34.00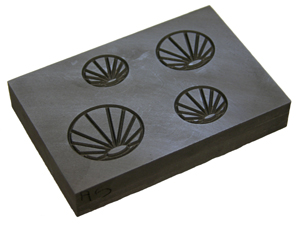 523001150
Sun Rise / Sun Set Pattern B Press 4-in-1
1/2" x 2" x 3"

4 basic shapes approximately 1/16" deep ranging from 9/16", 5/8", 3/4", & 7/8" dia.

$34.00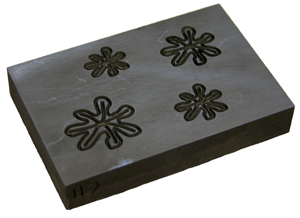 523001160
Splat Press Attachment 4-in-1
1/2" x 2" x 3"

4 basic shapes approximately 1/16" deep ranging from 9/16", 5/8", 3/4", & 7/8" dia.

$34.00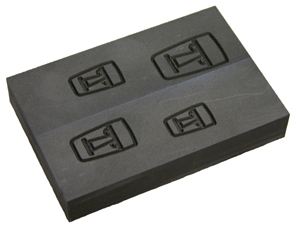 523001170
Stone Head Press Attachment 4-in-1
1/2" x 2" x 3"

4 basic shapes approximately 1/16" deep ranging from 9/16", 5/8", 3/4", & 7/8" dia.

$34.00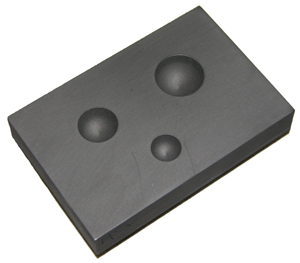 523009000
Marble Mold, 3/8", 1/2", & 5/8"
1/2" x 2" x 3"

Simple half-sphere marble mold for torch mount:
3/8" Dia.
1/2" Dia.
5/8" Dia.

$39.00

TPT - Press Attachments, by Weaver Industries

| Part Number | Description | Price |
| --- | --- | --- |
| 523000201 | Spiral & Oval Press Combo Engraved | $34.00 |
| 523000202 | Spiral Duo Press Engraved | $34.00 |
| 523000210 | Spirals Entangled | $41.00 |
| 523000301 | Focal Roller Attachment, 1/8" Mandrel | $39.00 |
| 523000302 | Focal Roller Attachment, 5/32" Mandrel | $39.00 |
| 523000303 | Focal Roller Attachment, 3/16" Mandrel | $39.00 |
| 523000501 | Triple Marver Frit Tray | $36.00 |
| 523001010 | Circle Patters 4-in-1 Attachment | $34.00 |
| 523001020 | Spoke Wheel 4-in-1 Attachment | $34.00 |
| 523001030 | Abstract Circle Pattern A Press 4-in-1 | $34.00 |
| 523001040 | Square Pattern Press 4-in-1 | $34.00 |
| 523001050 | Simple Circle Pattern A Press 4-in-1 | $34.00 |
| 523001060 | Sun Rise / Sun Set Pattern A Press 4-in-1 | $34.00 |
| 523001070 | Abstract Leaf Press 4-in-1 | $34.00 |
| 523001080 | Abstract Fish Press Attachment 4-in-1 | $34.00 |
| 523001090 | Cross Press Attachment 4-in-1 | $34.00 |
| 523001100 | Beach Ball Press Attachment 4-in-1 | $34.00 |
| 523001110 | Abstract Circle Pattern B Press 4-in-1 | $34.00 |
| 523001120 | Round Slinky Pattern Press 4-in-1 | $34.00 |
| 523001130 | Leaf Press Attachment 4-in-1 | $34.00 |
| 523001140 | Organic Life Press Attachment 4-in-1 | $34.00 |
| 523001150 | Sun Rise / Sun Set Pattern B Press 4-in-1 | $34.00 |
| 523001160 | Splat Press Attachment 4-in-1 | $34.00 |
| 523001170 | Stone Head Press Attachment 4-in-1 | $34.00 |
| 523009000 | Marble Mold | $39.00 |