Vin Pins
This was a joint venture design, created by John "vinE" Vinson of D'Vine Glass in Alaska, and Weaver Industries. Inspired by a common floral frog, the Vin Pin creates a surface upon which you can press or roll your hot glass, and trap accurately spaced air bubbles. Machined from graphite, the Vin Pin won't melt or distort, and has the unique property in that you can adjust the pin pattern.
The basic components are:
A graphite base, that is basically a holder to keep everything together.
A 3/8" thick graphite top, drilled for the pins, and machined to have a nice slip-fit into the base.
Solid brass pins.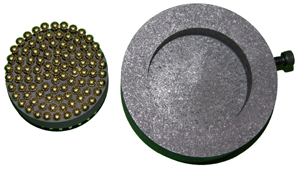 To change designs, simply unscrew the base hold-down screw, invert the tool, and allow the top to separate from the base. Remove as many pins as you want to alter the design, and then reassemble.
Before use, please clean all graphite tools by gently washing them with mild soap and an SOS or Brillo pad to remove any graphite dust that may be left behind from the manufacturing process. Allow to dry completely before use.
---
536000015
1-1/2" dia. Vin Pin

Base: 2-1/2" dia x 1" thick
Top Insert: 1-1/2" dia x 3/8" thick with 39 solid brass pins

$72.00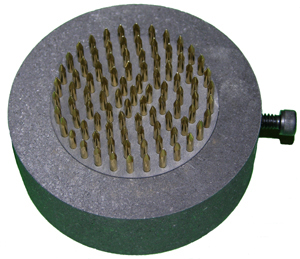 536000020
2" dia. Vin Pin

Base: 3" dia x 1" thick
Top Insert: 2" dia x 3/8" thick with 91 solid brass pins

$82.00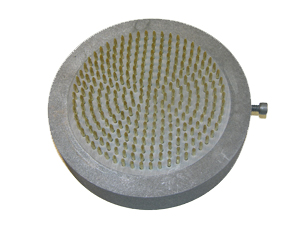 536000040
4" dia Vin Pin

Base: 5" dia x 1" thick
Top Insert: 4" dia x 3/8" thick with solid brass pins

$105.00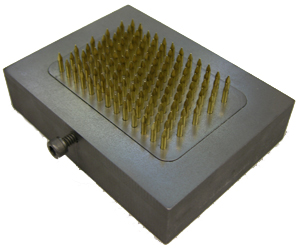 536000023
2" x 3" rectangular Vin Pin

Base: 3" wide x 4" long x 1" thick
Top Insert: 2" wide x 3" long x 3/8" thick with 125 solid brass pins

$82.00

Vin Pins, by Weaver Industries

| Part Number | Description | Price |
| --- | --- | --- |
| 536000015 | 1-1/2" dia. Vin Pin | (Out of Stock) |
| 536000020 | 2" dia. Vin Pin | $82.00 |
| 536000040 | 4" dia. Vin Pin | $105.00 |
| | | |
| 536000023 | 2" x 3" Rectangular Vin Pin | $82.00 |
| 536000036 | 3" x 6" Rectangular Vin Pin | $135.00 |