All Fired Up
Lauri started off knitting one-of-a-kind small garments, hats, gloves, and scarves. In 1999, she started glass beadmaking. Her glass obsession has grown rapidly, and it is now the base of all of her production. She is currently teaching borosilicate bead making throughout the country, as well as participating in national bead shows. Her writtings has been published in a number of magazines and journals.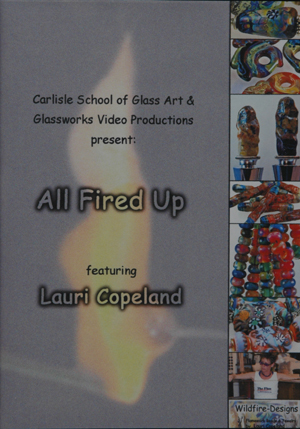 All Fired Up
Copyright 2007
1 disk
aprox. 46 minutes
$40.00

The DVD covers both soft glass and boro, and a variety of techniques.
If you are frustrated that your beads aren't round, your lines aren't straight, and your angles aren't sharp, this is the video for you. Lauri's work is very "organic", and shows that it's ok to color outside of the lines.
Lauri says this about the DVD:
The projects are on a beginner/intermediate level, but previous lampwork experience is recommended. Each chapter begins with a materials list. All of the projects are made from borosilicate, with one exception: There is one bead made from 104 soft glass. The DVD includes the following:
Using a rod of Glass Alchemy Amazon Night, I test my torch for neutral and reducing flame settings.
Three encased beads are wound on a single mandrel. I shape the "Crocodile Tears", then flame strike the boro color.
Dot placement and color layers are combined in the next bead. A clear encasement enhances the design.
Soft glass (COE 104) is used for the "Kimono" bead. There are step-by-step instructions for building a starburst cane and a multi color twisty. After winding the base bead, I apply several twisties, shape with a crunch tool, and apply starburst chips.
The wine stopper topper has a long slender boro base made with frit. I use a marver to form a shape that combines asymmetry with balance.
The freeform "Amoeba Disc" is made off mandrel. A reamer tool is used to form the oversized hole.
All Fired Up, featuring Lauri Copeland

| Description | Price |
| --- | --- |
| All Fired Up, featuring Lauri Copeland | $40.00 |