Infinite Rim Mold™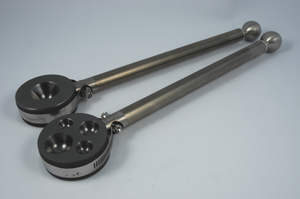 I've spent 30 years working in manufacturing, and I can say for a fact that these marble molds are some of the finest quality tools I have seen! These were designed by Drew Fritts, author of the book Torchworked Marbles, and manufactured by Dan Grumbling (an excellent marble artist in his own right!).
These molds utilize Drew's Infinite Rim Mold™ design, where you use the rim of the mold to round out your marble. These molds have a series of overlapping, round bottomed cones, instead of the traditional hemispherical cups, providing an infinite possibility of "rim" sizes. Each Infinite Rim Mold™ is designed to round any marble within a given size range. Drew mathematically designed the hole angles so that any marble that fits into the hole will be rounded as if it were being rounded on the optimal size cup rim or ring mold.
Using Drew's design, Dan cuts no corners in the manufacturing of these tools: the materials are first rate (he uses titanium for the handles!), the graphite is extremely dense and fine grain, and the workmanship is extrordinary! Each mold cavity is hand polished ... you just don't find this level of quality very much any more!
Check out these features:
The handles are custom-turned titanium which provides a lightweight, durable handle that won't burn, warp, or conduct heat.
The graphite is attached to the handle using a band-clamp mounting system. This attachment method provides for a non-slip, twist-proof attachment. The handle will never slip or twist - guaranteed!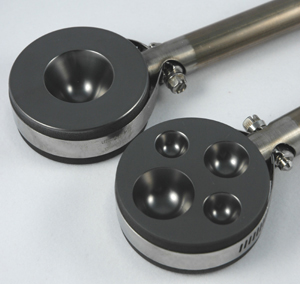 The molds are made from EDM graphite - the best, slickest, smoothest graphite available.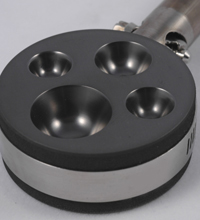 Minor wear and tear is easily maintained: For example, if your punty always contacts the rim in the same place because of the angle you hold the mold, it may wear an indentation in the rim over time. If this occurs simply loosen the band, spin the mold to a new position, and retighten the band.
If the graphite mold gets broken in a fall, or severely damaged for any reason, it can easily be replaced by loosening the band, removing the graphite puck, slipping in a new puck, and retightening the band. This saves on some of the cost of buying a completely new mold in the unfortunate event that it's necessary.
Each handle is 10" long (18" long on the 4" mold) to accommodate different working styles. Some people like to choke up close to the mold, while others like to hold further back on the handle to keep their hand away from the heat.
The handle is counterweighted with a custom-fitted, swirled, pewter-like knob on the end. On the smaller molds this places the balance point very close to the center of the overall length and makes the mold very easy to maneuver.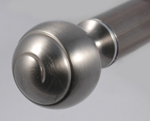 These fabulous marble molds are available in several sizes:
One of the most popular is the 5 multi-hole mold (shown above). This mold has 4 holes on one side (1/2", 5/8" 3/4", & 1"), and a 1-1/4" hole on the other. This one mold will cover all marbles from 3/8" to 1-1/2" in diameter!
a 1-1/2" mold (for marbles from 1-1/4 to 1-3/4" diameter)
a 2" mold (for marbles from 1-5/8" to 2-3/8" diameter)
a 2-1/2" mold (for marbles from 2-1/4" to 2-7/8" diameter)
a 3" mold (for marbles from 2-5/8" to 3-1/2" diameter)
and a 4" mold (for marbles from 3-1/2" to 4-5/8" diameter)
Infinite Rim Mold™

| Part Number | Description | Price |
| --- | --- | --- |
| IRM-M | 5 Multi-Hole Mold | $120.00 |
| IRM-1.5 | Single 1-1/2" Mold | $105.00 |
| IRM-2 | Single 2" Mold | $115.00 |
| IRM-2.5 | Single 2-1/2" Mold | $135.00 |
| IRM-3 | Single 3" Mold | $175.00 |
| IRM-4 | Single 4" Mold | $215.00 |
| | | |
| IRM-II | Double 1-1/4" & 1-1/2" Mold | $145.00 |
| IRM-II | Double 1-1/2" & 2" Mold | $160.00 |
| IRM-II | Double 1-3/4" & 2" Mold | $160.00 |