Stump Shapers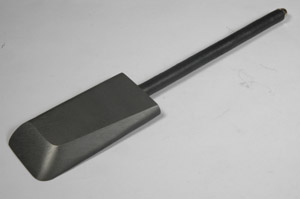 Designed for world famous Loren Stump, these tools aids him in producing the incredible detail and definition he has become so famous for. One long side has a radius on its edge. The opposite side has a 1/4" radius that tapers to a point at the end of the paddle where the corner of the paddle is rounded. The end of the paddle is machined to a chisel edge. Complete with a soft, hear resistant handle.
First produced in brass, people quickly figured out that this could also be made in graphite, and gain the benefits that graphite has to offer. Graphite does not chill the glass as much as brass, and slides across the surface easier.
Available in two sizes.
Graphite Stump Shapers, from Milliron Tools

| Part Number | Description | Price |
| --- | --- | --- |
| STUMP1 | 2" x 2-1/2" (approx.) | $28.00 |
| STUMP1-2 | 2" x 4" (approx.) | $32.00 |
---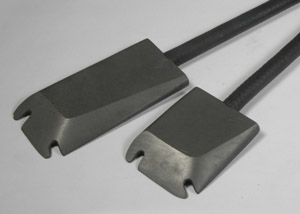 As is often the case, someone will take an existing tool, and modify it for their needs. Introducing, the 'Guarino Groovy Tool'!
This takes the proven graphite Stump Shaper, and adds a couple of unique grooves. This tool a wonder for applying metal leaf and foil to hot glass beads, allowing you to burnish it along the curves and right down to and around the mandrel holes.
Available in two sizes.
Guarino Groovy Tool, from Milliron Tools

| Part Number | Description | Price |
| --- | --- | --- |
| STUMP-GUARIN | 2" x 2-1/2" (aprox.) | $35.00 |
| STUMP-GUAR-2 | 2" x 4" (aprox.) | $40.00 |