Double ended Nail Set
This is a great example of how an item intended for a different application can have a great use as a glassblowing tool!
This is 6" long, and made of forged steel. I learned about this tool from Canadian artist Sherry Bellamy. This is what she says about this tool:
"I love it for several reasons; the blunt end helps to capture large bubbles when plunging.
The conical shape displaces a lot of glass when the tool is used to plunge, so one can create some interesting effects.
The tool is large and sturdy, and it's an incredibly efficient heat sink; it stays cool in the hand, and can be used for a long time before it requires quenching.
The little hammer is the cat's meow for knocking off punties, too.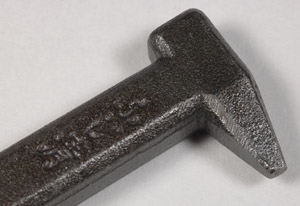 I just think it's a wonderful and elegant little tool, and I would not be without one.
Sherry Bellamy
You can see more of Sherry's work on her website.
Double Ended Nail Set

| Description | Price |
| --- | --- |
| Double Ended Nail Set | $8.00 |