Stump Shapers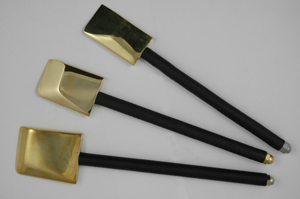 Designed for world famous Loren Stump, these tools aids him in producing the incredible detail and definition he has become so famous for. One long side has a radius on its edge. The opposite side has a 1/4" radius that tapers to a point at the end of the paddle where the corner of the paddle is rounded. The end of the paddle is machined to a chisel edge. Complete with a soft, hear resistant handle.
The High Quality tool (in the middle above, and shown again below) is made in America, and has a much sharper chisel edge than the less expensive imports.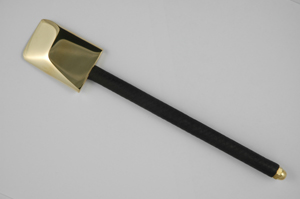 Stump Shapers, from Milliron Tools
Part Number
Description
Price
STUMPQ-2
Brass, High quality, USA
1-1/2 x 2" (approx.)
$50.00
STUMP-EL
Brass, Large, imported
1-3/4 x 2-1/4" (approx.)
$35.00
STUMP2-ES
Brass, Small, imported
1-1/8 x 2-1/8" (approx.)
$35.00
---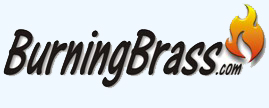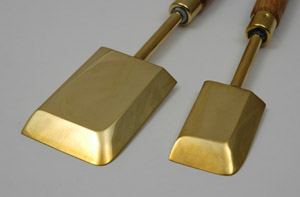 Jim at Burning Brass used to produce a series of shaping tools inspired by the Stump Shaper. When Jim decided to stop making these, we bought all of his remaining inventory. This tool is no longer in production, so once they're gone, they're gone!
Available in several sizes, and in both right-handed (shown above) and left-handed (shown below) versions. Complete with a 8" wood handle.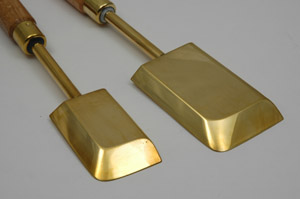 Burning Brass Shapers

| Part Number | Description | Price |
| --- | --- | --- |
| BB-SS45-63R | Shaper, 45mm x 63mm, Right Handed | $48.00 |
| BB-SS31-50R | Shaper, 31mm x 50mm, Right Handed | $40.00 |
| | | |
| BB-SS31-50L | Shaper, 31mm x 50mm, Left Handed | $40.00 |
| BB-SS45-63L | Shaper, 45mm x 63mm, Left Handed | $48.00 |