Videos by Timothy L. Keyzers
Vortex Marbles
Hot Glass Workshop, Volume 1
1 DVD disk
50 minutes
Out of Print
(The marbles shown on the cover above are the actual marbles made in this video.)
Timothy L. Keyzers will demonstrate many techniques very useful in creating highly contemporary borosilicate vortex marbles step by step. He makes four different vortex marbles from 'easier' to more advanced using frit, color stringers, dichroics, and silver fuming, including how to create a "Phantom Corkscrew" and how to decorate the backside with a detailed spotting pattern which is one of Timothy's signature looks.
Vortex Marbles

| Item # | Description | Price |
| --- | --- | --- |
| GRP001 | Vortex Marbles | Out of Print |
---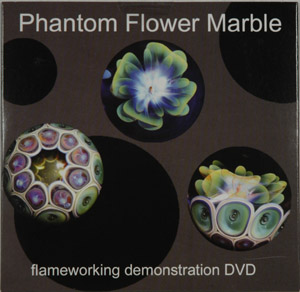 Phantom Flower Marble
Hot Glass Workshop, Volume 2
1 DVD disk
30 minutes
$30.00
This 30 minute semi-instructional demonstration video showcases the beauty and wonder of creating a borosilicate "Phantom Flower" marble... Enjoy!
Phantom Flower Marble

| Item # | Description | Price |
| --- | --- | --- |
| GRP002 | Phantom Flower Marble | $30.00 |