Lampworking videos by Lucio Bubacco
In 2004, Italian master Lucio Bubacco taught a workshop in Oregon. The local community college filmed the workshop, and created these DVDs.
---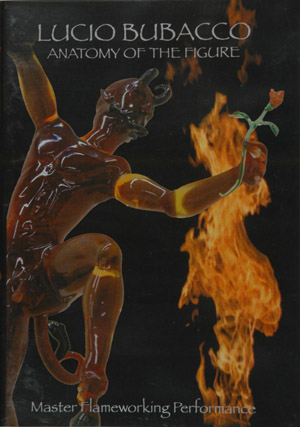 Anatomy of the Figure
Copyright 2004
3 DVD disks
6 hr, 44 minutes total running time
$75.00
(excerpt from the back of the DVD case)
"Bubacco's fascination with anatomy lured him to push bit by bit beyond perceived technical limits of his craft. His large free standing sculpture, worked hot and annealed during the process, is unique in lampworking. His pieces challenge our notion of lampwork as primarily decorative and whimsical."
This 3-disk DVD set includes:
Disk 1:
Medusa (01:25:46)
Anatomy by the numbers (02:16)
About annealing and architecture (25:13)
Disk 2:
Scorpion Woman (01:48:29)
Anatomy by the numbers (02:16)
Bird Woman in Heels (01:48:28)
Disk 3:
Lucio Bubacco - Anatomy of the Figure

| Description | Price |
| --- | --- |
| Anatomy of the Figure | $75.00 |
---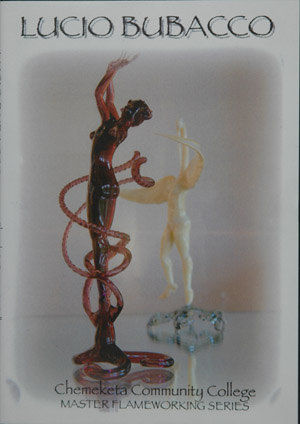 Master Flameworking Series
Copyright 2004
1 DVD disk
3 hr, 15 minutes
$45.00
Includes:
Demo 1: Eve goblet
Demo 2: Eve figure
Demo 3: Mythological figure
Demo 4: Spider
Demo 5: Devil, with a surprise finish
Slideshow
Lucio Bubacco - Master Flameworking Series

| Description | Price |
| --- | --- |
| Master Flameworking Series | $45.00 |