Essemce - SH-series Straight Shears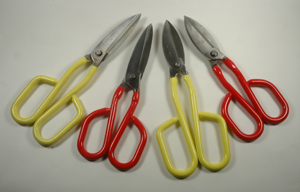 The SH type shears have sharp, pointed blades designed for pulling out and snipping off bubbles created during the gathering process. The longer SH-2 shears replace Essemce's PS shears for cutting the trail or ribbon of glass created when one uses a gathering iron or ladle for sand casting or other pressed ware type processes. These shears make a clean, quick cut leaving a smooth surface on the casting, unlike diamond shears which usually leave a patch of cold, broken glass that won't remelt or smooth itself out after cutting.
Available with Large (yellow) or Small (red) handles, and 2 blade lengths.
SH-series Straight Shears
Part #
Description
Blade Length
(from bolt center)
Price
SH-1
w/Large Handles
3-3/4"
$144.50
SH1-S
w/Small Handles
3-3/4"
$144.50
SH-2
w/Large Handles
4-1/2"
$147.00
SH-2S
w/Small Handles
4-1/2"
$147.50