Videos from the Japan Lampwork Society
The Japan Lampwork Society is dedicated to spreading the knowledge of glass lampworking.
The Society has produced a series of instructional videos, each one focusing on one artist and their specific style and techniques. Each video has several demonstrations, and an interview with the artist.
---
Vol 1 - Akihiro Ohkama
1 disk
2 hrs
$57.00
In this video, Aki will do three demonstrations:
Making a cherry blossom murrini
Making a curved bead using the cherry blossom murrini
Making a netted design bead with gold and silver foil canes
(both finished beads are on the DVD cover shown above)
Japan Lampwork Society, Vol 1 - Akihiro Ohkama

| Description | Price |
| --- | --- |
| Vol 1 - Akihiro Ohkama | $57.00 |
---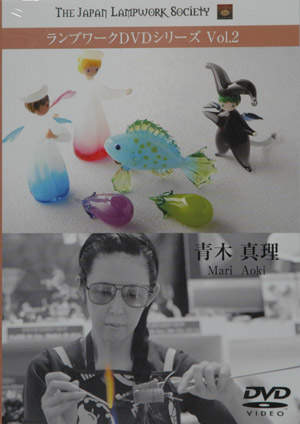 Vol 2 - Mari Aoki
1 disk
1 hr, 5 minutes
$57.00
Mari does sculptural work with the ultra-soft Japanese glass and the Japanese torches. In this video, she will demonstrate how to make:
An eggplant
A Little Devil
A Fish
An Angel
(finished pieces are on the DVD cover shown above)
Japan Lampwork Society, Vol 2 - Mari Aoki

| Description | Price |
| --- | --- |
| Vol 2 - Mari Aoki | $57.00 |