the Stump Sucker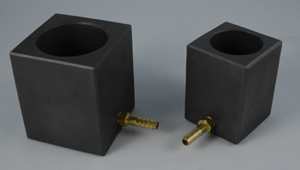 When making paperweights, marbles, beads, or anything where you need to encase previously made components, it is important to prevent traping air bubbles in your work. Designed for the world famous Loren Stump, this low-tech, but highly efficient, tool allows you to 'suck' the air out of your glass piece.
Arrange your pre-made components on the perforated graphite disk in the bottom of the cavity. Pre-heat the components with a small torch, being careful not to overheat and distort your work. Place some molten glass over the cavity, and immediately begin sucking on the hose. When done right, the molten glass will completely fill in around your components, with no air trapment.
Available in two sizes, the Stump Sucker is sold without a hose. A hose set, consisting of a mouthpiece, a filter, and a 30" hose, is available.
Stump Sucker, from Milliron Tools

| Part Number | Description | Price |
| --- | --- | --- |
| STUMP6A | Stump Sucker, 1-1/2" dia. cavity | $50.00 |
| STUMP7A | Stump Sucker, 2" dia. cavity | Discontinued |
| | | |
| STUMPHOSE | Hose w/Filter | $10.00 |